Editor:
V. Dimov, M.D.
, Allergist/Immunologist and Assistant Professor at University of Chicago
Asthma is the most common chronic respiratory disease, affecting up to 10% of adults and 30% of children.
Information For Patients
How to use your asthma inhalers and nebulizer
(video)
How to use a spacer
(video)
Action plan for asthma and peak flow meter video
Allergy Testing
Asthma & Allergy Medications
Asthma, Allergies and Pregnancy
Asthma Triggers and Management
Childhood Asthma
Cough in Children
Inhaled Asthma Medications
Peak Flow Meter
Running into breathing problems when you exercise? Track symptoms with
My EIB Journal
Asthma Control Test (ACT) -
web-based version
and
PDFs
Dusty The Asthma Goldfish and His Asthma Triggers Coloring Book
, by
EPA
(PDF)
Here is what wheezing sounds like (click to play the embedded video):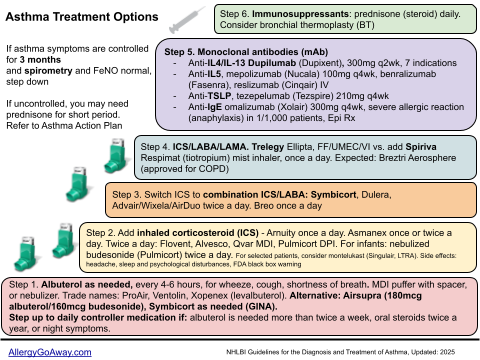 Asthma - Treatment Options
(click to enlarge the image).
Asthma Inhalers
(click to enlarge the image).
Allergic (atopic) march (click
here to enlarge the image
).
Modified Asthma Predictive Index (API)
(click to enlarge the image).
Severe asthma: "What to do when asthma is not doing well?"
(click to enlarge the image).
What to expect when visiting an allergy clinic
Current allergy skin tests are virtually painless.
This video
by Dr. Bassett, a board-certified allergist from New York City, shows what to expect when visiting an allergy clinic for diagnosis and treatment:
Information For Doctors
Asthma: Teaching Cases
Newly-diagnosed severe asthma
When to Use Xolair (Omalizumab) in Asthma?
A female with asthma and allergic rhinitis who is trying to become pregnant: what medication changes may be needed?

Treatment Devices for an Asthma and Allergic Rhinitis in a Patient with Arthritis and Stroke
A Boy with Moderate Asthma with Poor Response to Therapy. What to Do?
More than a "runny nose" - allergic rhinitis and asthma
Steroid inhaler induced laryngitis
Anaphylactic Reaction to Omalizumab (Xolair) in a Patient with Severe Asthma
Omalizumab can serve as a bridge to immunotherapy in severe asthma
Cyclosporine Use in Severe Steroid-dependent Asthma
Vocal cord dysfunction masquerading as "asthma" for 20 years
Asthma exacerbation with carbon dioxide retention
Alpha-1 antitrypsin (AAT) deficiency and panniculitis
More Than Asthma: Allergic Bronchopulmonary Aspergillosis
. NEJM Images in Clinical Medicine.
How to Treat an Exacerbation of Allergic Bronchopulmonary Aspergillosis (ABPA)?
A breathless woman with asthma
. BMJ Picture Quiz.
Related Reading
Natural History of Asthma
Pathogenesis of Asthma
Diagnosis of Asthma
Treatment of Asthma
Treatment of Pediatric Asthma
Diagnosis of chronic cough in children
Severe asthma in children - different diagnoses and management
Exercise-induced asthma and bronchospasm
Mind Maps: Asthma
A simplified, stepwise algorithm for the treatment of asthma
. Allergy, Asthma & Clinical Immunology 2011 7(Suppl 1):S2.
Mnemonics: Asthma
Blog articles
from AllergyNotes
Image source: Image source: FDA and Wikipedia,
public domain
.
Published: 06/28/2007
Updated: 08/10/2012